Assalamualaikum :) hey
Aku ada belambak2 draft lain yg tak sempat nak hit publish, yet...aku senang lenang nak taip citer baru kat new entry. *pui.
Hari ni, aku nak ajar korang, camne a simple animal mcm seekor gajah, dan seekor harimau. Which both are at their biggest differences and interest, can actually help you inspire and do well to ur life. :)
I'm referring to both. Water for Elephant and Life of Pi.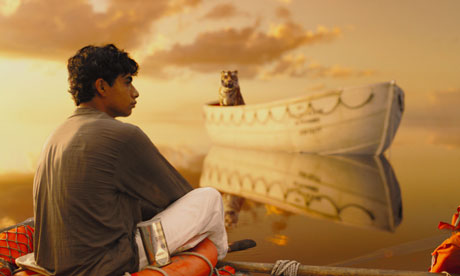 Aku belajar benda ni dari dua filem yg awesome, bukan saja dari komen yg diberikan oleh penontonnya, tp gak, 2 movie ni menang banyak award. For shor la bukan sesaja dia nak menang kan? Of kos lah, based on the story telling, casts, scripts, best graphics and etc. But, what moves me so hard is that the idea of the story itself. How can a simple movie, aspire one man like me. Aw...how touchy.
Disebabkan abang aku rajin sgt downloadkan a truckload of movies, which hari tu dia bawak balik Wreck It Ralph dgn Twilight Breaking Dawn Part 1 ngan Part 2. Pastu the next day dia bawak balik Hobbits An Unexpected Journey dgn Rise of the Guardians. Pergh, la ni...dia bawak Frankenweenie dgn Life of Pie. Oh, dan dia jugak bawak Wawa Semput. (=.=')
It was long ago aku tengok cite Water for Elephant, mmg moving cite tu. How life is actually the biggest show ever. While, aku tengok cite Life of Pi tu baru2 ni, and I gotta say...both guna pakai animals dalam movie, and it adds up complimenting the movie. Pengajaran dia, kena korek sendiri. Well...as an audience, itu tugas korang utk kenal pasti apa yg pengarah dia nak sampaikan dalam cite tu. Bukan simply, buka mulut dan disuapkan semuanya. Talking bout lessons in movies or tv dramas...
Bila satu family aku ada kat umah n afta dinner, mesti nak tengok tv ramai2. Selalunya malam Jumaatlah, sbb the whole family akan tengok citer Semanis Kurma. :) Ataupun hari Sabtu malam Ahad, sbb nak tengok Cerekarama. So, this is how things work. Mak aku nak tengok drama melayu, while abg aku nak tengok citer omputih. Then, they gonna throw some points.
Now, here is my brothers' point of view.
Citer melayu ni takde pengajaran, maybe some movies may have, but the rest, lagi2 drama series, mmg pointless. E.g of pointless drama series : I'm gonna say it out loud : VANILA COKLAT. SUPERMAK? like seriously? pfft, citer tu, gonna make me puke rainbows. Ok, so some malay movies with a bag pack of lessons, mcm Hoore Hoore, o perhaps, Songlap. Filem dari pengarah yg dah set the bar so high, like arwah Yasmin Ahmad, the superb director mcm Khabir Bhatia with his project, CINTA o Malaysian favorites, Nur Kasih, o perhaps Rashid Sibir with Tanah Kubur and tonnes more.
Later that evening, here's my mother's point of view.
Banyak citer omputih ni ajar yg tak elok. Byk ciom2, peluk2 ajar bukan2 je. Pergaulan bebas...
dan tak habis lagi mak aku nak bidas, abah aku cakap.
Apa beza cerita melayu? Recently, kitorang duduk depan tv nak give it a try tengok citer Karlos, and end up, first episode dah mengajar budak sekolah isap gam, curik motorsikal, Melayu yg beli nombor ekor? and you guys know wads going to be serve in eps 2 o 3 etc etc. How is that gonna reflect to our children?
See my point? O in this case...their points? Mak ada point dia sendiri, which is very true, my abg pun got his point, and also my abah.
Bottomline, (dah hilang cerita harimau dgn gajah aku) filem yg bagus, boleh memberi kesan yg mendalam pada penonton dan membuatkan diorang fikir balik apa yg diorang tengok tadi. So, only few good directors are able to do that. Leave the spectators, to awe in their place, right after the screen rolled up the credits. Pernah korang rasa camtu? Well I do. Dua2 movie ni aku awed afta the credits finished. :)
Hands down.